When:
July 18, 2016 @ 7:30 pm – 8:30 pm
2016-07-18T19:30:00+01:00
2016-07-18T20:30:00+01:00
Where:
Fitness First Cottons Branch
Tooley St
London SE1 2QN
UK

4 Week Summer Course Belly Dance Drum Solo
4 week summer course belly dance drum solo. In this workshop explore the intricate and sexy allure of drum solo's, how to use the fierce rhythmic patterns, manoeuvring through the changing tempos, learning the most elegant turns whilst developing the ability to choose beautiful combinations to best express yourself. Dancing between darbuka accents and dum teks discover how to really use a drum solo whether soft and flowing or rapid sharp jaw dropping isolations.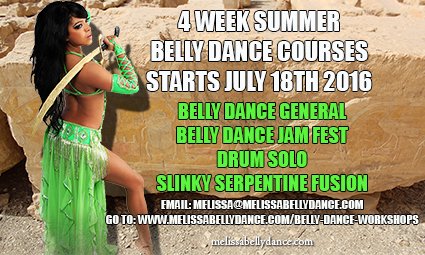 In this 4 week summer course belly dance drum solo you will learn to better identify signature drum pattern names homing your improvisational skills.  Put these great techniques and new inspiration to the test in a magnificent choreography choreographed by Melissa which you can then use to mystify any audience!
email: melissa@melissabellydance.com
TO TAKE PART IN WORKSHOPS ALL PARTICIPANTS MUST SIGN UP BY EMAIL WITH MELISSA BEFORE ATTENDING THOSE WHO DO NOT MAY BE UNABLE TO TAKE PART.
disclaimer*
BY ATTENDING THESE WORKSHOPS YOU AGREE MELISSA IS NOT RESPONSIBLE FOR ANY INJURIES OR ACCIDENTS TO PARTICIPANTS. ALWAYS CONSULT YOUR DOCTOR FOR ADVISE BEFORE DOING ANY PHYSICAL EXERCISE.