When:
July 19, 2016 @ 7:30 pm – 8:30 pm
2016-07-19T19:30:00+01:00
2016-07-19T20:30:00+01:00
Where:
Fitness First, Cottons Branch
Tooley St
London SE1 2QN
UK

SUMMER 4 WEEK BELLY DANCE GENERAL LEVEL
Summer 4 week belly dance general level. Learn the basics in a fun and encouraging class, discover beginners and improvers isolation's pops and shimmies and get in touch with your inner beauty in a summer 4 week belly dance general level class.
General Level belly dance will not only work up a sweat but will also give you a fantastic variety of belly dance moves all to be applied to the 4 week combinations drills and choreography, involving correct technique in muscle isolations popular with professional belly dancers. You will discover muscles you never knew you had, and train them in the way of a belly dancer giving you a brilliant mind-body connection and improving your coordination.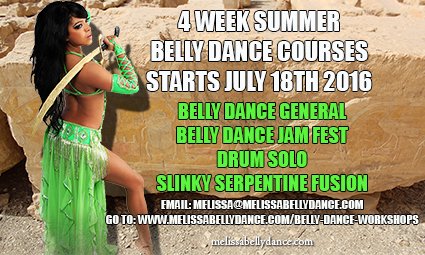 Great for the complete beginner and those with experience who want to improve on their technique.
Level: Open to all levels including total beginners – Melissa provides options to cater for all levels.
email: melissa@melissabellydance.com
TO TAKE PART IN WORKSHOPS ALL PARTICIPANTS MUST SIGN UP BY EMAIL WITH MELISSA BEFORE ATTENDING THOSE WHO DO NOT MAY BE UNABLE TO TAKE PART.
disclaimer*
BY ATTENDING THESE WORKSHOPS YOU AGREE MELISSA IS NOT RESPONSIBLE FOR ANY INJURIES OR ACCIDENTS TO PARTICIPANTS. ALWAYS CONSULT YOUR DOCTOR FOR ADVISE BEFORE DOING ANY PHYSICAL EXERCISE.