When:
September 15, 2020 @ 7:00 pm – 8:00 pm
2020-09-15T19:00:00+01:00
2020-09-15T20:00:00+01:00
Where:
Studio 339, The Basement
339 Euston Road
London NW1 3AD (off Fitzrovia W1)
Latin Belly Dance Hip Hop and Samba
Latin Belly Dance Hip Hop And Samba classes are full of attitude, latin flavour, hair flicks, belly dance isolation's, Samba steps, moves and stylisation along with full on hip hop diva behaviour, plenty of swagger and sauce to keep you strutting your stuff even after the class!
Melissa has invented a fusion never done before, now copied by others and fused 3 great and popular styles she is known for Latin Belly Dance, Samba and Hip Hop creating an exciting fusion where Latin, Reggaeton, Samba drums meets the commercial up to date flavour of hip hop and dance music you know and love!  Learn choreography that will be used in the end of term show.
Location: Euston Rd/ Warren St London
The class also involves Latin techniques such as samba steps, Latin steps and styling.
Prepare to break all the rules, dance to all your favourite songs, have fun, sweat, let your hair down and let out your rebellious side!
This is a high energy class, lots of water a must!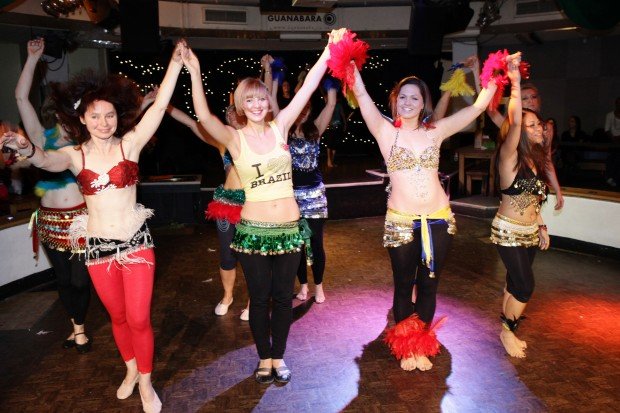 (Heels optional)
General level. No experience necessary and no partner work involved.
ADDITIONAL INFO:
EVERYONE WHO BOOKS ON THE 12 WEEK COURSE AUTOMATICALLY GETS FREE ACCESS TO THE SAME COURSE RECORDED VIDEOS ONLINE FOR THE DURATION OF THAT TERM AND HAS THE OPPORTUNITY TO PERFORM IN THE END OF TERM SHOW PRODUCTION.
RECIEVE A DIGITAL eCERTIFICATE AT THE COMPLETION OF A COURSE.  GAIN 3 CERTIFICATES FROM 3 DIFFERENT TERMS AND GET A MELISSA BELLY DANCE SCHOOL WORKSHOP FOR FREE!