Description
BELLY DANCE TEACHER TRAINING COURSE WITH MELISSA BELLY DANCE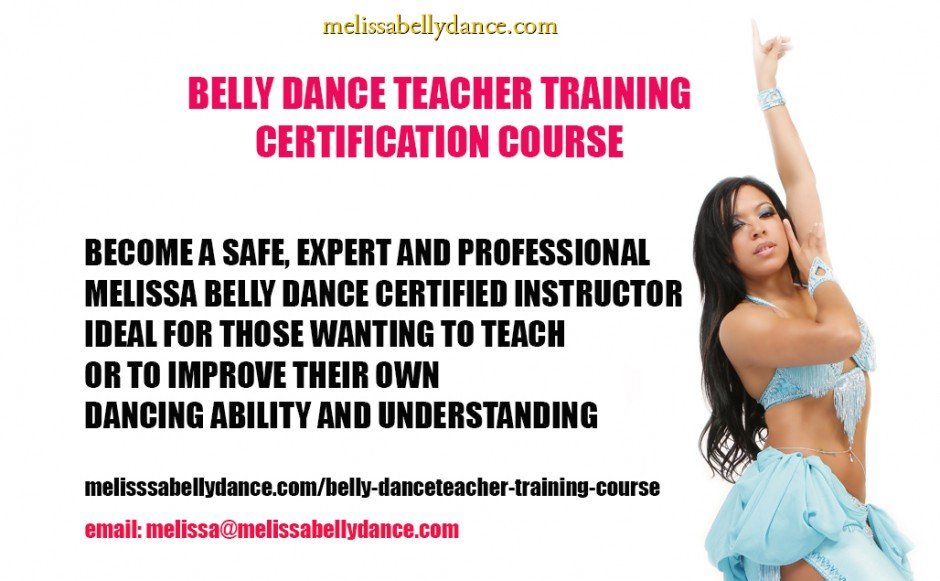 The Melissa Belly Dance Teacher Training course is one of the most respected in the UK.
Melissa's belly dance teacher training courses are well known for the in depth knowledge, theory and practical practise provided.
Melissa Belly Dance is well known for her teaching methods, approach, techniques and fun upbeat classes.
Who is the course for?
The course is greatly beneficial to dancers as well as anyone with the
desire to teach.
Students wanting to take this course should have belly dance  level 2/3 experience plus.
Some attend the course to gain a deeper understanding of belly dance and
to aid their personal progression as a dancer others attend to learn the
skills required to become a safe, knowledgeable and respected belly dance teacher.
The exam consists of a written exam and a practical exam.
All participants that pass will receive a Melissa BellyDance certificate.
Belly Dance Teacher Training Course Content:
Class layout/ structure

Safe warm ups/ cool downs

Combinations/ choreography

Class/ course syllabus

Anatomy and belly dance

Moves, breakdowns and their safety points

Posture types and corrections

Student learning types and how to teach these types

Teaching methods

Musicality

Professionalism

Business planning

History

Benefits

1 essay on a given subject.

1 presentation of a given subject

exam written and practical
Belly Dance Teacher Training Dates 2020:
ALSO INTRODUCING TEACHER TRAINING LEVEL 2! Details Below.
COURSE 1:
Belly Dance Teacher Training Level1:
February, Saturdays 1st/8th/29th: Time: 3pm-8pm
March, Saturday 7th: Time: 3pm-8pm
COURSE 2:
Belly Dance Teacher Training Level1:
June, Saturdays 6th/12/20th/27th: Time: 3pm-8pm
Belly Dance Teacher Training Level2:
TBA: Please email Melissa directly for these dates in 2020
melissa@melissabellydance.com
The course consists of 20 intense hours split over a period of days.
Venue:
 Studio 339, 339 Euston RD,London, NW1 3AD
(Closest tube station: Warren st/ Great Portland ST)
Spaces are very limited.