Tribal Fusion Belly Dance Subscription Video Membership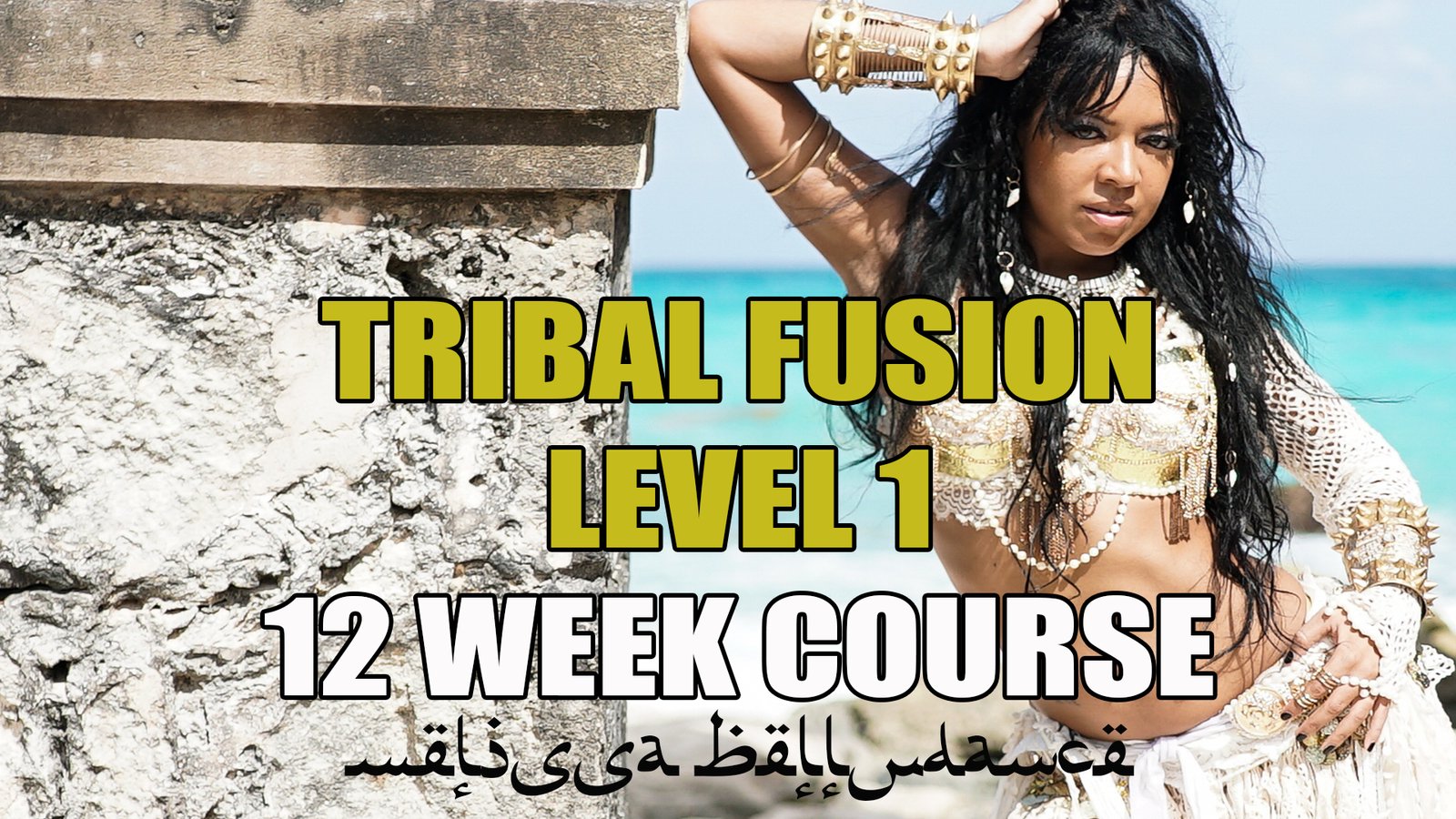 £20 Per Month Subscription

Access Anytime

New 60 Minute Videos Uploaded Every Week, Every Term is Different

Additional Member Content Videos

Huge Library of Videos

Class Environment Videos

Tutorial Videos

Excellent Break Downs & Explainations

New Choreography, New Skills & Techniques to Learn Each Term

Progress And Continue to Develop What You Learn

Full access to Melissa's blogs, tips and real feedback Q&A's

Expert teaching techniques, you will become a better belly dancer

Feel like your in Melissa's vibrant fun class atmosphere from anywhere
Tribal Belly dance level 1 beginners and improvers with Melissa BellyDance.
Tribal Fusion Level 1 is based on Melissa's signature and unique style of tribal fusion - "Tribal From The Trap."
Melissa's Tribal From The Trap style is full of super sass, power, strength, femininity and cat like hybrid movements. In Tribal Fusion belly dance level1 learn to cut some serious shapes with your body as you enter an internal world full of unstoppable and powerful masculine and feminine energies. Discover how to harness these energies within your movement, your muscles and your tribal fusion belly dance technique.
Learn the basics of tribal fusion in a fun and encouraging class and discover tribal beginners and improvers isolation's, pops, lock's and shimmies!
GET IN TOUCH WITH YOUR DARK TRIBAL TRAP QUEEN
Level 1 Tribal fusion belly dance will not only work up a sweat but will also give you a strong base in muscle isolation and technique. We also cover in-depth technique and drills, including the famous "sidewinder," and Tribal fusion snake arms. 
You will discover muscles you never knew you had, and train them in the way of a tribal belly dancer, giving you a brilliant mind-body connection as you become sinuous and serpentine in your body. Burn serious calories in the drills and techniques section, train your brain whilst learning new isolation's, and have fun whilst dedicating time to your darker more seductive side!
Great for the complete beginner and also those with experience who want to brush up on techniques.
A great deep and internal workout!!!
MELISSA BELLY DANCE SCHOOL - LET THE BODY SPEAK. EMBODIMENT. BECOME THE MUSIC. BE THE MOVEMENT
Melissa's tribal fusion belly dance classes are challenging, fun and full of creative ways of moving and creating amazing shapes within YOUR body. Discover what works for YOU, and how YOU like to move. Learn the how's and the why's behind the movement and how to embody it.
Melissa will personally teach you all of her tips and advice, as well as her secrets to achieve the seductive and animalistic look behind tribal fusion!
Not only will you enhance your musicality and belly dance isolation technique, but you will also learn how match the texture of the music. Additionally, learn how to dance from the inside out, which is a key concept within the Melissa Belly Dance School.
MELISSA BELLY DANCE - FLOURISH AND SHINE BRIGHT IN A SAFE AND SUPPORTIVE ENVIRONMENT
Melissa is famous for her incredible ability to teach "any one" how to dance! She tailors her teaching to YOU and YOUR needs. All of this whilst using a wide variety of teaching methods to ensure that everybody learns in her classes. Subsequently, you will learn fast, safely and effectively, with professional technique.
Really learn to 'dance' and 'perform' with your belly dance techniques and push through your own boundaries. Melissa believes that you can and should never stop learning. Therefore, you will continue to reach new heights in your abilities and your tribal fusion technique! Melissa Bellydance provides a safe and supportive environment in which you feel comfortable and excited to both flourish and shine! You will also be encouraged to find your own soul and spirit within your dance. Melissa really helps you with this and guides you through with ease.
Dance to a wide variety of music including "Tribal From The Trap" which was originally made especially for Melissa's Tribal fusion belly dance classes. The music is now available to download and stream accross all platforms. 
Sweat, strengthen your core, boost your metabolism, tone up and discover and evolve and shine!
MELISSA BELLY DANCE - THE CLASSES AND COURSES
Within the tribal fusion level 1 belly dance course Melissa provides lot's of options. In addition to this Melissa'a key and signature stylisations and variations are also offered to suit all abilities and levels within the class. You will be supported, looked after and taken care of on your belly dance journey. Classes with Melissa Belly Dance are always nourishing, uplifting, motivating and empowering!
Tribal Fusion Level 1 belly dance classes will not only work up a great sweat, they will be sure to work you from the inside out! Learn Melissa's signature moves and techniques unique to Tribal From The Trap. In addition to this Melissa will not only give you lot's of personalised feedback, top tips and advice, but she will also teach you her unique method and philosophy which achieves great RESULTS with each and every student!
The time flies by in Melissa's classes, and you will always leave smiling!
WHAT TO EXPECT IN A CLASS?
All of Melissa's tribal fusion belly dance and belly dance classes will offer a fun and feminine workout combining the following:
Warm ups
Tribal fusion belly dance Technique and drills
muscle isolation development
combinations and choreography
Fun key exercises
Hair work - (hair-ography!) - unique Tribal from the trap style
Tribal fusion arm work including Melissa's signature style and the famous Sidewinder
Tribal Fusion belly dance stylisation
Melissa Belly Dance Tribal Fusion unique and signature moves
Cool downs
And lot's more related to the terms particular theme and concepts!
It is extremely important to Melissa that you not only have fun in her classes, but that you also learn something new in each and every class. Therefore you will make lot's of progress over the term. Because of this Melissa's students grow and progress with her throughout the levels and the array of styles she has to offer. Many students take the same level and class more than once.
This is because no 2 courses with Melissa BellyDance are ever the same! Furthermore, each term has it's own unique concepts, themes, techniques and choreographies. Because of this, with Melissa you will never stop learning and improving in your dancing and development!
BELLY DANCE COMMUNITY
Join our social media groups (optional), meet your class mates and ask Melissa questions. Melissa also uses these groups to provide optional homework and share class music, and relevant class content. 
COURSE CERTIFICATES AND COURSE CONSISTENCY REWARDS
Reap the rewards of learning to tribal fusion belly dance with Melissa Belly Dance! Not only will you receive a special personalised E-certificate at the end of each term, but redeem them against specialist workshops! Collect 3 belly dance certificates from 3 different terms and contact her to book your place on a special workshop, after all, you earnt it!
WHAT TO EXPECT FROM BELLY DANCING WITH MELISSA BELLYDANCE
Melissa's students call her classes "soul food!"
Belly dancing with Melissa is likely to become a healthy addiction! You will indeed discover muscles you never knew you had, and train them in the way of a tribal fusion belly dancer. This will also tone your body and provide you with a brilliant mind-body connection, creating harmony within. Strengthen and unleash your hips, find your inner goddess, and learn to move with grace and fluidity. 
By belly dancing with Melissa you will see noticeable improvements in your posture, burn some serious calories, train your brain whilst learning new dance moves, and have fun dedicating time to your physical and mental health.  
See you in class!
MELISSA BELLY DANCE CREDITS
The 5 O'clock Show with Lenny Henry, Sadie Frost, Punjabi MC, Akon, Alabina Ishtar, Urban Music Awards, BBC2's Strictly Come Dancing It Takes 2, BBC3's Don't Tell the Bride.
She has been a featured performer at the Asian Music Awards, Zee Cine awards & Nike. She also has 2 DVD's of her own!
Tribal fusion level 1 belly dance is great for the beginner to intermediate dancer and those who have completed her belly dance level 1 and 2 courses.
Melissa provides varying levels of difficulty to suit all students needs.
*By signing up, users agree that Melissa Belly Dance accepts no responsibility for injuries or accidents.  Please always check with your doctor before taking part in any exercise. Subscriptions automatically renew depending on your subscription package (e.g. monthly subscriptions renew monthly)
Melissa Belly Dance 2021